When people find out how many products I try, they always ask for what my favourite eye cream is. Inevitably, they've got some dryness under their eyes, or some shadows, or a few new wrinkles that they've noticed and they want a magic recipe to get rid of them. Truth be told, it's hard to find a good eye cream. Very few of them actually do what they say, and truly, the best way to get rid of under-eye circles is to get more sleep, drink more water, and eat better, but those things are more difficult to do and the results seem out of reach. The next best thing is to use concealer. It's also not meant for those who don't want to spend a lot of time in front of the mirror.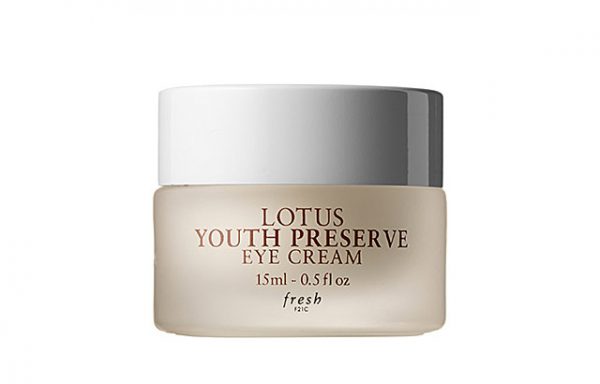 But now, there's an eye cream that I really like. I won't promise that it gets rid of anything, but it does moisturize the skin under your eyes without being greasy and makeup goes on overtop without sliding around or creasing.
It's the Fresh Lotus Youth Preserve Eye Cream. It has a delicious and refreshing cucumber scent, and it goes on just like water but then absorbs in a second and leaves your skin looking great. It works well on all skin types, and hydrates without any dewiness. Water and glycerine are the main ingredients and they do a good job at drawing water into the skin and keeping it there.
$54 at Sephorahttp://www.sephora.com/lotus-youth-preserve-eye-cream-P392865?skuId=1685908&icid2=products%20grid:p392865.