I love the holidays. I start listening to Christmas music right after Remembrance Day and shop for presents starting December 1st. I love giving gifts, holiday baking, and people in my house. I also love Friends-mas which is basically holiday dinner with my friends. It doesn't represent Christmas dinner with my family but it does have its own place, and it's super fun.
I'm stocking my bathroom with holiday soap, and it's always been Live Clean. My kids love the Peppermint Vanilla, but this year there's Gingerbread Latte which has the sweet and spicy scent of gingerbread. These soaps smell good but they're also super moisturizing with tons of lather. And there's tons in in the packaging so you'll be set for the whole holiday season.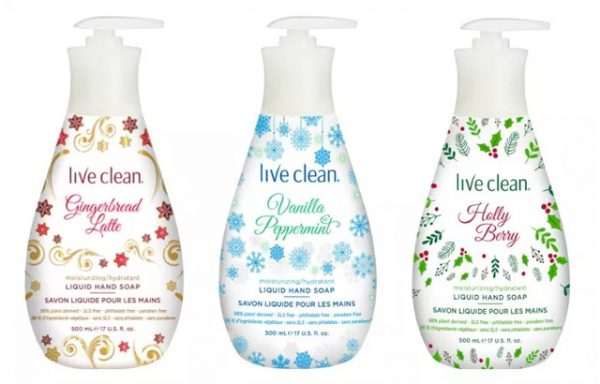 Plus, all Live Clean products, are plant derived and free of SLS/Sulfates, Petroleum, DEA, Parabens, Silicone, Phthalates and Phosphates, so if there are ingredients that you're sensitive to or are trying to avoid, you can check out these soaps.  These are also available in Holly Berry (which is a berry scent) and Peppermint Vanilla (which is still the favourite around here).
Available at drugstores and mass merchandisers. $4.99 to $5.99.