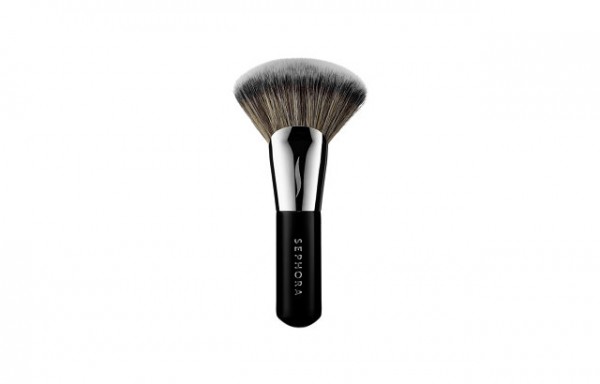 Yes, it's time to wax poetic about another fantastic foundation brush: the Sephora Collection Pro Full Coverage Airbrush #53.
Check it out: it's smaller than a regular foundation brush and much slimmer too, but it turns out that the fan shape is really great for applying foundation to the under-eye area in smooth strokes away from the centre of the face.  It also gets that small area under the nose, and is especially great for getting the part under the chin.
The handle is short which I normally don't like but this time, it actually makes it easier to get precise application.
This foundation brush is synthetic – which is great because the fibers don't absorb the foundation and just spread it out on your face instead, and I'm finding that I've had to use less foundation than with my Beauty Blender – no surprise there, since the latter is a sponge, but really it's nice having to use 1 pump of foundation rather than the usual 2… that means my foundation will last twice as long, right?
Pick up the brush for $48 at Sephora.