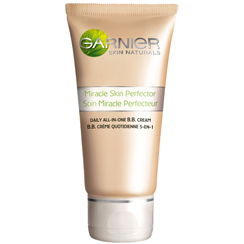 It's true. Garnier's BB Cream is here! Called the Garnier BB Cream Miracle Skin Perfector, this is kind of like a tinted moisturizer that comes in two colours. Thankfully the medium/dark matches my skin almost perfectly, though skintones that are darker than an NC 35 are not going to be able to find a match with this one.
The BB cream has a neutral colour, without being too pink or too yellow in its base. This is probably so that it can match with more skin tones.
The cream aims to provide moisture and coverage all in one product – and in that sense is very much like a tinted moisturizer.
I have noticed that a little bit of the cream goes a very long way, which is nice. The texture is kind of wet – not unlike a moisturizer – but without it really ever soaking into your skin completely. Actually, the first time I used this, I tried to apply it with a foundation brush and that was not a good idea. The brush just absorbed so much of the product and moisture that it just pushed the product around and applied kind of streaky. I've since found that the best way to apply this cream is to use the fingertips and really just blend into the skin.
The cream is very hydrating but in a light and refreshing way. It is not greasy but is super emollient. I also found that because the moisture never absorbed into the skin, I had to use a lot of powder to "set" the cream so that I could apply blush or bronzer on top. The best way to go is with a loose powder because then you can really apply the perfect amount in a dusting. My usual pressed powder just couldn't do the job here.
Though the commercials for the cream show it dissipating into powder, the Garnier BB cream definitely does not have a powder finish. It may have mineral pigments in it, but the product is not powdery at all. The finish is actually glowy and the cream makes the skin look really healthy. I wouldn't say that it's shimmery either. I could detect no shimmer in the product. However, the fresh moisture of the product causes it to have a satin-like finish on the skin. Though I like setting it with a powder on most days, I've also found that I can just wear and go if I want to be more low maintenance and that works for me too. I didn't find that the cream creased at all, and it was still on my face at the end of the day.
I like using this BB Cream. It's not perfect, but I'm happy with the colour match and the finish on my skin. It covers up just enough, and I really like that it was able to cover the redness from a few blemishes. It's definitely a light-coverage product, though so don't look for anything more than that. To tell you the truth, this cream really reminds me of my favourite tinted moisturizer from Cover FX, so I guess that's a good thing. It's not as good as the Cover FX tinted moisturizer, but it's cheaper, and comes in a bigger bottle so the trade off is there.
The cream comes in two shades and retails at drugstores for $19.99.