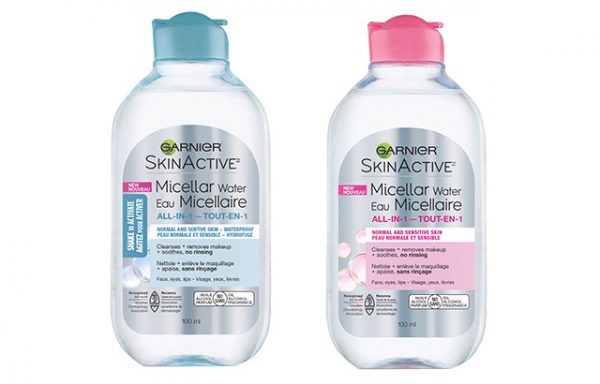 So Micellar Water – it's actually such a controversial product among skincare specialists. Some people really hate it because they don't think that it really gives your skin a good clean, and others can't live without it because it's so easy to use. Micellar Water looks and feels like regular water, but performs as a makeup remover. Put some on a cotton pad, and rub it over your face and it'll easily take makeup off, leaving a bit of moisturizer behind, which is why it's thought of as a skincare product too.
I love it, but I don't use it to clean my entire face. It's great for spot cleaning – you can fix too much blush or eyeshadow easily, without disturbing the rest of your makeup. I have some in my gym bag to help me take off mascara, and I love it to take off my makeup before I jump into the pool – that's a case where I know that I'm going to be properly washing my face anyway.
Garnier has one of the best Micellar Waters out there – I find that it really does take off makeup easily, even eye makeup, without stinging my eye. That's better than the leading French Pharmacy brand I've tried. It comes in two variations – All-in-one and Waterproof – both are excellent.
Pick it up at drugstores now.