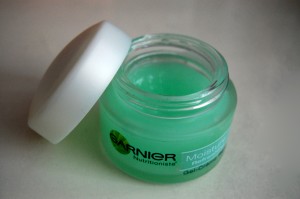 "Does a luxurious moisturizer have to have a luxurious price?"
For once, the tagline for a moisturizer is right on the money.
Normally, I find that oil-free "cream-gels" are too light for my dry skin, but Garnier's Moisture rescue Refreshing Gel-cream, while a mouthful to say, is juuuust hydrating enough.
It smells like fresh cucumbers and has a really nice, light gel texture. When applied, you get this really fresh, cooling sensation. But beware; this is probably due to the fact that the third listed ingredient is alcohol. Although this didn't affect the moisturizing quality of the cream for me, it might cause more severe dehydration in the future. You'd probably have to use it for longer than my testing period to find out though, and I would steer clear of this if you have sensitive skin.
It contains grape water extract and vitamin E, which are both antioxidant ingredients. It is recommended that you use an antioxidant moisturizer or serum in between your SPF and your skin. This works really well because it absorbs quickly, and doesn't interfere with your makeup.
The jar is around $12 for 50g of product. I have dry skin, so I globbed this on, but people with oily or normal skin can most likely get away with much less. It's a really good price for the quality and amount of product you get!