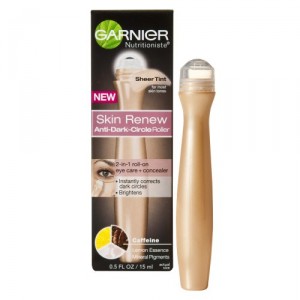 I have been a huge fan of under eye rollers for over a year now.  These are basically eye serums or creams deposited through what's essentially a giant ball point pen filled with said cream.  The ball point is made of metal so it's cold, and it feels refreshing as you apply the serum to your eye area.  It's a great idea because it provides immediate relief which is key when your eyes are tired.  I use mine to give me relief on particularly long days or while I'm waiting for a face mask to dry.
The Garnier Nutritioniste Skin Renew Anti Dark Circle Roller goes one step further by tinting its product.  Before you all start hating, know that it comes in a medium tone now, and that's the only reason that I'm reviewing it.  I can actually try it now and report to you guys!
Now, I gotta say that while it's a great idea, unfortunately the product doesn't work that well.
As you apply it to your eye area, you're essentially spreading more and more of the tinted eye cream, and instead of rubbing in as it would do with your hands, it just sits there and builds up.  The best way to use this is to dab it under your eyes and then blend it into your makeup with your fingers.  It's easy enough to do, and you get a bit of the cooling sensation too because it's in the product as well as the roller.  After using this, I noticed that it did a pretty good job of disguising redness and purple shades under my eyes, and blended to a sheer matte finish.
Pick it up at drugstores.