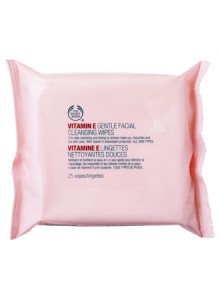 How can you make your summer rituals easier to follow and be ready to go at a moment's notice?  We don't have all the answers but we do know of a product that can help.
When the summer months come I become a huge fan of cleansing cloths.  They're portable on a picnic or a weekend camping and let you take makeup and dirt off in one simple wipe.
Believe it or not, I've actually come across bad cleansing wipes – these are residue-heavy or just don't do the job.
But The Body Shop's Vitamin E Gentle Facial Cleansing Cloths are a cut above.  They smell so good and can take everything off.  They haven't made me break out either.
And if you're still not sold on cleansing wipes, consider that they're perfect to wipe your feet clean with at the end of a long day out.  And $15 for 25 is not bad either.