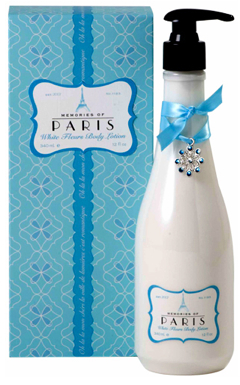 In the summer, I like layering my scents, because I need them to be more long lasting, and so one of the things that I look for in a body lotion is a nice scent that will stay on my skin.  Unfortunately, scented body lotions rarely have tenacious staying power and so layering can become difficult if not impossible.
But Get Fresh Memories of Paris White Flowers body lotion does the trick.  It smells like gardenia and jasmine and absorbs quickly to give you scented skin for the whole entire day.  This actually does last longer than my perfume!
The lotion also comes in an absolutely love bottle that is getting great face time on my desk right now.  The bottle is elongated but comes with a pump so that the lotion is easy to apply.
You can find this at spas and salons or order through the Get Fresh website.  This scented lotion also comes in New York (lemongrass, lavender, lemon), Kyoto (fruity), and Positano (more floral).