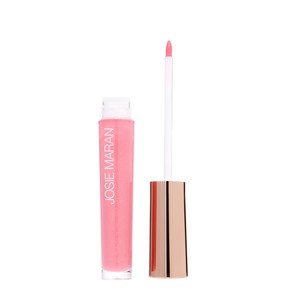 I'm never really excited about celebrity lines because I feel that a lot of celebrities lend their names to products tend to be expensive, but middle-of-the-line quality. Essentially, there's usually more effective products out there that I can buy without paying for the celebrity endorsement behind it.
Naturally, I was sceptical when I had the opportunity to try Josie Maran's plumping lip gloss, but it won me over instantly. It wasn't too tingly and didn't swell my lips like most plumping lip glosses. Instead, it smoothed the rough spots and had unimaginable staying power – I didn't have to reapply until after lunch. The scent and the taste of the gloss was really subtle – like a cocoa-vanilla combination – yum!
The colours are sheer, but have the perfect amount of punch to them. I wore daring, a rose-coloured nude, and it looked great with or without lip colour underneath.
The only thing I'd change? The brush applicator was sometimes difficult to apply, and didn't hold enough gloss for one go. I had to dip into the bottle at least three times before there was enough gloss for my liking.