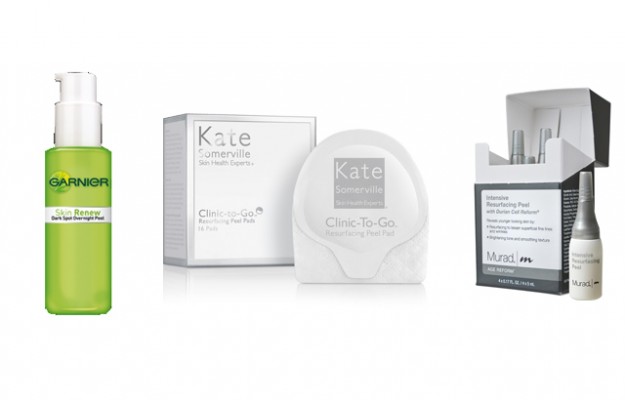 Damaged skin is dry and dull looking, and lacks its original luster.  The damage causes uneven texture and so products don't go on smoothly and even though you're using your regular foundation, things just don't look the same.
Luckily, modern beauty technology is here, and you don't even have to leave your house to take advantage of it!  The newest trend on the market is at-home peels, but the truth is that even if you have sensitive skin, none of these products will cause your skin to actually peel off the way that a real peel at a dermatologist's office will do.
What all these products will do is help speek up skin cell turnover.  So if you're trying to get rid of skin that's dry and damaged because of too much sun, then you want to introduce these into your beauty routine.  They work – just stick with them.
1. Garnier Skin Renew Dark Spot Overnight Peel.  This is probably the most gentle product on our list, but it does contain a small amount of glycolic acid to exfoliate the skin, and some vitamin C which can help make skin brighter.  In just a couple of weeks of regular use, you'll notice that dullness is smoothed away and brighter skin cells are coming to the service.  The gel formulation is light and absorbs into skin easily without clogging pores, so I'd recommend this for those who have acne as well!  $19.99 at drugstores.
2. If your skin can handle something a little more intense, then look no further than Kate Somerville, whose products are always packed with a high level of active ingredients.  The Kate Somerville ExfoliKate Treatment is hands down my favourite peel (check out my review) but now there's also the Kate Somerville Clinic-to-Go Resurfacing Peel Pad.  The Kate Somerville Clinic-To-Go Resurfacing Peel Pad is formulated with lactic acid which is gentle yet effective.  The treatment comes in the form of single-use buffing pads that are easy to use and you'll see smoother skin after a week of regular use.  The peel is gentle enough to be used every day by those who have oily skin, and if your skin is sensitive, then use it every other day, or just a couple of times a week.  Clinical results show that after going through the treatment, users saw
100% improvement in skin smoothness
80% brighter skin
84% of users said that their skin clarity improved
With results like that….
3. Finally, there's Murad's Intensive Resurfacing Peel. Of the bunch, this is the most intensive treatment.  This intensive resurfacing peel has a blend of glycolic and salicylic acids which is what makes it so powerful.  Just leave it on for 10 minutes (or as much as you can handle, if you have sensitive skin), and then wash off.  Used once a week, it'll slowly clear away major dryness and dark spots from the sun.  At $49 for 4 treatments, this is the way to go if you want quick results.  Available online.