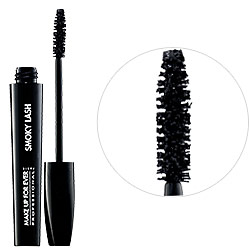 I got my hands on a tube of Smoky Lash Mascara by Make Up Forever.  If you've never run into this line, it's because you haven't checked out a Sephora properly.  Both Sephora and Make Up Forever are owned by the same parent company so their products are always in Sephora stores.
Stuck for what this line is about?  Think a high-end, French MAC-like line.  You can get funky colours here and foundations in almost any colour.  They make colours for all skintones and if you've had trouble matching your skin, then you have to check out Make Up Forever and see if you can find anything for yourself.
Anyway, they've come out with a mascara that everyone's been talking about and so I decided to try it myself.  As you know, I really like wearing Cover Girl mascaras and find it hard to find anything that does what that mascara can't but the Smoky Lash mascara comes really close.  It's a super-pigmented rich black mascara that lasts all day without creasing.  It can clump up if you over-apply and has a tendency to flake at the very end of the day, but your lashes feel feather-light and you can't even feel that you're wearing mascara!
There's no fancy brush here, but there is a pretty great mascara!
$30 wherever Make Up For Ever products are sold.