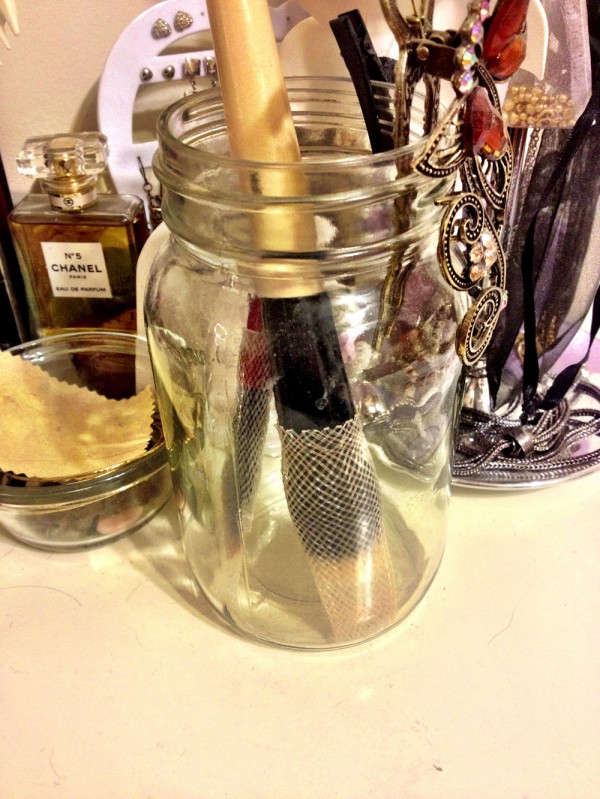 Hey, we all know how important clean makeup brushes are. Here's a refresher: clean brushes keep your makeup pretty and streak free, colours from getting muddy and (most importantly!) keep bacteria and sebum from getting redistributed onto your skin during application. It's also essential for the health of your brushes, because keeping them clean will also keep them in good condition for a long time.
So I got a brush guard.
Here's how it works: wash your brushes as usual (I like to use cheaper facial cleansing oils to do this), and blot out the excess water with a paper towel while reshaping the bristles. Then, simply slip the brush guard on and put them upside down in a glass to dry. The mesh material is stiff enough that it will hold the brushes upside down, but still allows your brushes to dry overnight.
Your brushes will look brand new in the morning, as Brush Guard also helps to reshape them and keep little bristles from sticking out all over the place as the brush dries. Bonus: when you're travelling, this not only allows you to dry your brushes properly, but also acts as a "guard" in your makeup bag or brush case.
I really love this because drying your brushes laying flat allows water to pool where the bristles attach to the handle, which will weaken the glue over time. Being able to dry your brushes upside down allows gravity to do its thing and pull the water out. I started using Brush Guard about 4 years ago, and literally haven't had to buy new brushes since.
Brush guard can be purchased in a variety of sizes to fit your eyeshadow, foundation, and powder brushes at thebrushguard.com. There's also a variety pack that includes a few of each!