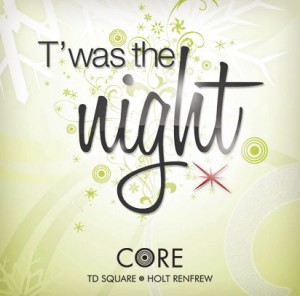 So there's plenty of buzz going around about The Core shopping centre this winter.  They're hosting a fab party at the end of November: T'Was The Night.  It's going to be an amazing party, because CORE Shopping has just finished a $75 million reno, and they're thanking each and every customer by treating them like VIP's at their party.  Everyone will be able to walk the red carpet, and there will be food and bevvies galore that night.
The only catch is that you need a ticket to get in, but at $15 each with the entire proceeds going to charity, that's a cost that almost anyone can swallow.
But the main event, of course will be the shopping.  Every retailer will have a special promo, discount, or giveaway going on, so there will be lots of good deals to be had.  It'll be the best time to catch up on your Christmas shopping and get everything you need for the people in your life.
And so now, we get to the party I'm good at: the shopping and sharing my picks for products with you!  And for this part, I'd love some feedback: tell me who you need to shop for, or who's especially difficult to shop for, and I'll try to find a gift just for them.
See you at the CORE!