When you're super busy, it's more important than ever to get your rest.  I've cut down on my caffeine and that's helped a lot.  Most days, I lie down and I'm out but on the nights where I need a little help, I have two go-tos: Lavender Shower and Bath Oil from Bleu Lavande, and Dream Water.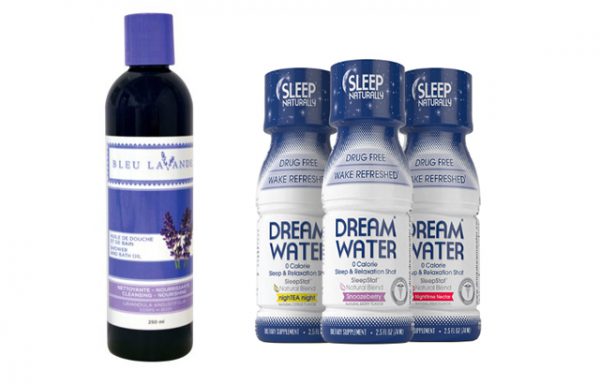 Bleu Lavande is a company out of Quebec that makes products that have lavender in them.  They're pretty concentrated, and you'll be able to really smell the lavender in them.  The Lavender Shower and Bath Oil is creamy and not too foaming so it actually moisturizes.  It makes for a one-step shower routine because there's no need to moisturize afterwards and the scent is just so relaxing.
I also love Dream Water.  This is a natural sleep aid in the form of little water shots.  It contains Melatonin, 5-HTP, and GABA.  You take it when you're ready to go to sleep (not before), and it helps you go to sleep more quickly and then helps you stay asleep.  It's available in pre-mixed bottles, or in little powder packets that you can mix into water or juice.  There are three flavours available: berry, tea, and "nighttime nectar".  I have the berry one and it's generically berry tasting.  I drink it quickly and so I barely notice what it tastes like, but within half and hour, I can feel myself being very sleepy.
Also – a good workout helps, and I find if I haven't exercised during my day, it's way more difficult for me to fall asleep!