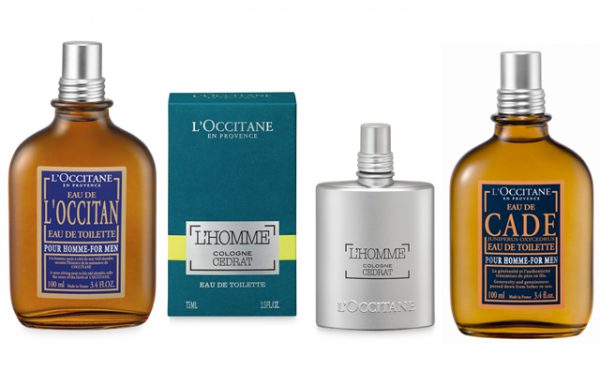 If you're interested in gifts a little off the beaten path this Valentine's day then head to L'Occitane because they make some unique fragrances for men.  You may not think of them immediately when it comes to mens' scents – they're known more for their amazing hand cream (which has 20% shea butter in it) and for their lip balm, but their fragrances are well formulated.
What I'm loving about them is that they often focus on a single note – it makes it a little bit easier to choose a scent because you think of what's associated with that note and then whether that image appeals to you or not. 
For example, there's Cedrat, which is a cirtus fruit, and so Cedrat combines a citrus element with something fresh and watery while still being masculine.  It's aquatic and a touch spicy, but mostly made for those days that you want to smell something fresh. 
Another favourite is the original L'Occitan Eau de Toilette.  This has top notes of lavender which is unusual for men's fragrances, and combines it with notes Black Pepper, Nutmeg, Burnt Woody Notes. It's very French, very sophisticated.
Finally, there's the Cade Eau de Toilette.  This is said to be for the outdoorsman – it's spicy and woody because it has notes of cedar wood and pink pepper. 
And the nice thing about all of these?  They also scent complementary products like shower gel, shaving cream, or deodorant, so if there's a scent that you like and you'd prefer it layered, there is that option too.  
Check out all the options online at L'Occitane.ca or in stores.