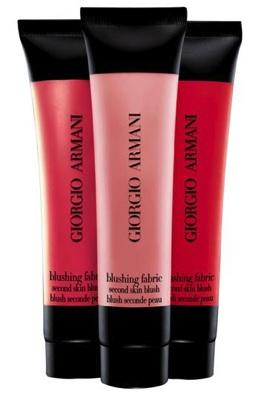 First there was the Giorgio Armani Face Fabric Foundation which got rave reviews both online and off.  It is a mousse-type foundation that's perfect for all kinds of skin.
To further than line, Armani has also come out with the Blushing Fabric, which is essentially a mousse blush.  It's very light-weight and sheer just like the Face Fabric Foundation was, and yet highlight pigmented so that you need just a small amount to give your cheeks a pretty flush.
I prefer to use this on clean skin under my foundation (which I wear mixed with primer and is very sheer).  That way, it goes on very smoothly and the silicone base doesn't interact with anything else on my skin.  I then put my tinted moisturizer on top and I can still see the blush through that but in a totally natural-looking way which is perfect, especially for the summer.
The Blushing Fabric only comes in 3 colours, and the lightest pink is probably only for fair skin tones.  I have the medium pink colour and it works well on my medium skin tone.