It's the holidays so if you've been saving up for presents and not for your hair care, we understand. We're giving away the entire new Resistance Extentioniste Collection from Kerastase and you could win it for yourself!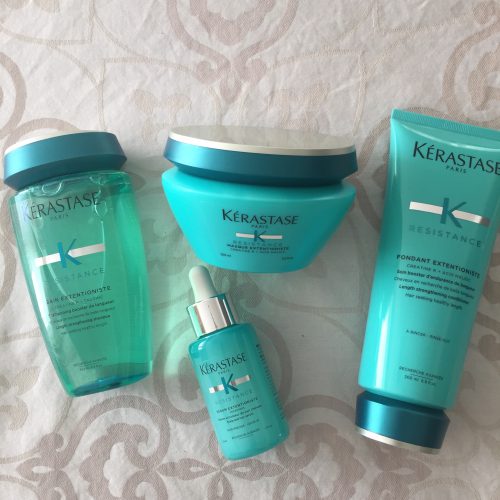 Extentioniste has been carefully formulated to take care of hair so that it grows longer – without splitting or breaking. If you've ever tried to grow your hair long, you know that it splits and breaks or gets super dry and tangled at the bottom which again, makes it break more. Extentioniste hopes to end all that.
The line includes a shampoo, conditioner, a scalp and hair care serum, and a deep conditioning mask. All of them are formulated with Ceramides to condition the hair, Creatinine to improve the bonds of the hair, and Maleic Acid to seal the hair cuticles from root to tip. The serum is watery – like a serum meant for your face – and that's why it's suited for both your hair and your scalp. You can apply this directly to the scalp and massage it in to provide care for the skin on your head.
True story: because I colour my hair to cover greys, I can see that my hair actually grows pretty fast on its own. I get about 1 cm of growth a month, but my problem is that it really thins out towards the ends, and that's what I want to keep. I want long hair, but I don't want the ends to be crispy and frizzy and dry because then they get tangled and break. It'll be a challenge to add the serum to my existing routine and see if it makes a difference to the overall thinness of my hair.
Now: you can take this journey with me. If you'd like to win a sample of the Kerastase Resistance Extentioniste hair care line, enter the contest below! The contest is open to Canadian contestants only and ends December 17th.
Available in salons.