More and more, OPI is being known for their amazing collaborations. They've collaborated with lots of celebrities and brands, and now they've come out with a Ford Mustang collection for the ultimate car lover.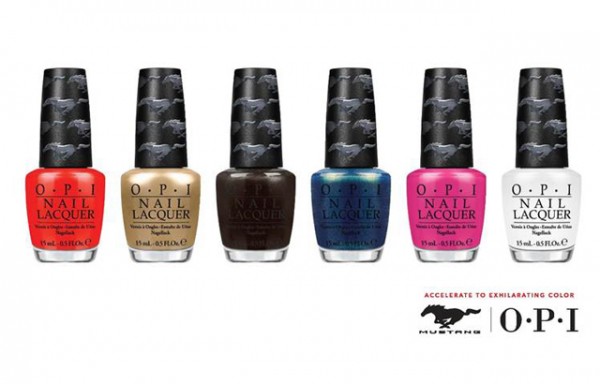 The collection is inspired by the 50th anniversary of the Ford Mustang.
The colours are:
Race Red: The hero color of the collection, Race Red pays tribute to one of Mustang's signature colors and brings to life the passion and excitement of the iconic car

50 Years of Style: Just like Mustang, celebrate all your milestones with this made-to-party golden pearl

Queen of the Road: Inspired by Mustang's dramatic and perfectly appointed cabin, a black interior evokes sophistication and will always be a classic – just like the little black dress

Girls Love Ponies: A woman is multifaceted; this grown-up pink acts as a reminder of her femininity, even as she takes to the wheel of the powerful pony

Angel with a Leadfoot: Drive up and say "halo" to this celestial white. Whether worn alone or as an accent, white is essential to a woman's wardrobe and to making a statement

The Sky's My Limit: There is nothing like the freedom of the open road and shimmering, endless blue sky. This aqua hue awakens a woman's sense of adventure and is a trend shade for summer going into the fall.
I haven't actually checked out the collection myself (and the salons I've been to recently didn't have it) but you could try it before me!
I have ONE FULL SET of this collection to give away, and it could be yours!
Just leave me a comment telling me what your favourite nail polish colour is – this is the colour that you keep coming back to again and again. You all know that I love CND's Cakepop, and this season I have Essie Urban Jungle on repeat.  On my toes,  I always ask for OPI Don't Bossa Nova Me Around from their summer collection.
So what's your favourite?
I'll select a winner next Thursday.