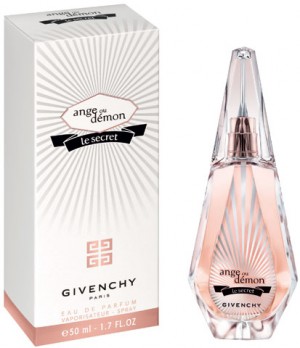 If you're stuck for what to give a good friend, here's a suggestion: find out what their favourite scent is and then give the flanker.
I thought of that as I looked at my own enormous perfume stash and still had the feeling that I was so bored of everything.
And then Ange ou Demon Le Secret came my way and I was in perfume heaven again.
Le Secret is a lighter version of the original heavy floral, and is an interesting twist to offer at this time of year. The trend suggests that something heavier would be more fitting, but Givenchy offers a respite from the gourmandes that are floating around in the air right now.  Ange ou Demon Le Secret was created by Bernard Ellena and officially has notes of cranberry, green tea, citrus, sambac jasmine, white peony, water flower, blond woods, white musk and patchouli.
Le Secret starts off with a really sweet lemony note that reminds one of dessert.  It was such a sugary sweet note that I was immediately wary of the scent, because gourmandes are just not my style.  Interestingly, however, the note was nice enough for me to spray the scent on myself and keep smellling it.  The tartness of the lemon brought the sweetness down a notch and made it just bearable and interesting.
The note gives way to a woody floral that has whiffs of roses and patchouli.  I have to say that they're probably among my favourite note combination so it's not surprising that I really liked this scent once the sweetness wore off. The rose stays really fresh and eventually the florals give way to a more musky base that's ever so pretty and very wearable. From beginning to end, Le Secret stays light and pretty and it's a beautiful scent for any time of year.
I don't have nor have I ever smelled the original Ange ou Demon, but my interest is piqued!