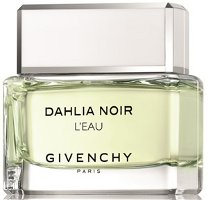 This summer, Givenchy came out with a lighter, fresher take on its fragrance Dahlia Noir.
Notes are: citron, neroli, rose, patchouli, cedar and musk.
Right off the bat, you can smell the citron although it's quite fruity and almost smells like a ripe mango.  Later, you the floral notes: neroli and rose which are super pretty and intensely floral.  Truly, you feel as if you've stuck your nose into the flowers and are smelling them at their freshest.
The patchouli, cedar, and musk aren't overwhelming in this scent but they do ground out the floral notes and give the scent some depth.
Dahlia Noir L'Eau is a very pretty scent for the summer.  It's light and fresh, and different from a lot of scents out there.  I like that they added fruity notes but they're not overly sweet.
Dahlia Noir L'Eau EDT is available at The bay, Shoppers Drug Mart, and Sephora.  $71 for 50ml and $95 for 90ml.