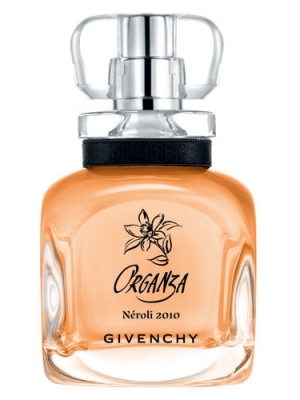 Givenchy has a twist on the flanker game: instead of just trying to reinvent its perfumes, it releases something called the Harvest Collection each year.  The brand takes a look at specific harvests from the previous years and works them into existing perfumes.
This year's releases are: Very Irrésistible Givenchy Rose Damascena de Turquie (fruity and fresh, with green and raspberry accents; the rose comes from an organic crop); Ange ou Démon Le Jasmin Sambac de Chine (with apricot and honey accents); Amarige L'Ylang-Ylang des Comores (a powdery floral with the banana accents of ylang ylang); and Organza Le Néroli d'Égypte (crisp and ultra-fresh; the neroli comes from an organic farm).
I have the Neroli, and I've smelled the original Organza dozens of times as my mother used to wear it.  The twist with the neroli version is that the floral notes are highly amplified.  The fragrance has a lush and fresh tuberose note that one can smell right from the beginning.  It mellows out, and then you start to smell the original Organza, which wasn't as heavily neroli and tuberose based.  The fragrance is lovely, and slightly sophisticated.
Pick it up for the remainder of the year.