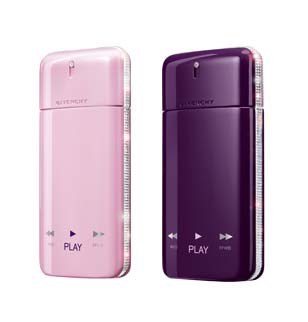 This year, Givenchy launches Play for Her.  Play for Him was launched last year, and has Justin Timberlake as the face of the fragrance.  It's clear that Givenchy is going after a younger audience with this scent.  The good-looking musician whose music appeals to teenagers around the world is the face of a scent that comes in a bottle that looks like an iPhone.  It's something that's iconic and that younger people can relate to and hopefully, buy.
Play for Her is going to be available in 2 versions: Eau de Parfum, and Eau de Parfum Intense.
The juice inside Play for Her is interesting. I have to say that I totally hate the top notes and found them totally distasteful.  I think that it's a combination of pink peppercorn and peach that I'm smelling and after that, I really didn't want to smell any more.
Thankfully, in the Intense version, the opening notes consists of just the Pink Peppercorn and Orange Blossom and it's a combination that's a little easier to take and that fades quite quickly.
The middle and base notes smell fantastic and are worth waiting for.
The regular eau is sweeter – it has base notes of Tiare Flower and Magnolia and a base of Sandalwood and musk.  The Intense version has those as well as Tonka Bean and Benzoin in the drydown which gives it an almost gourmand flavour.  I found that the Intense version worked much better on my skin – it was warm and sweet and such a pleasure to wear that I pretty much wanted to spritz it on everything.
Play for Her is now available at all fragrance retailers.  The regular EDP will retail for $79 for 50 ml.  The Intense version will be $85 for the same amount.