…around here, we love long-wearing foundations.  They really do last the whole day and so it's nice not to have to second guess your makeup halfway through the day.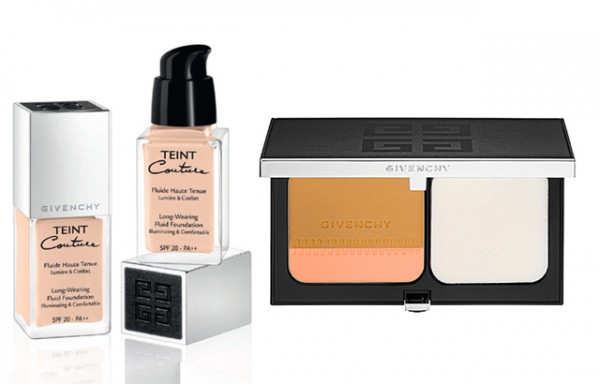 The new long-wear foundations are so different from what used to be out there.  They are smooth on the skin, not over-matte, and reflect light so that they look like skin.
Givenchy advertises that the Teint Couture Long-Wearing Foundation ($55) is "comfortable" on the skin, and that is most definitely true.  Teint Couture goes on like regular foundation – it's soft, smooth, and almost dewy.  But then in about 5 minutes, it sets to a powder and just sticks to the skin and looks perfect.  It is extremely easy to wear, and looks entirely natural.
I like applying this with my fingers because I find that's the best way for it to look natural.  Applying with a foundation brush took a lot more product, and the foundation went on thicker than I would have liked but still set nicely and made my skin look amazing.
This lasted through a workout (sweat showed through but not oil) and lasts and lasts through very very long days.  Soap and water take it off easily.
Givenchy also has a Teint Couture Long-Wearing Compact Foundation ($66) which is the powder version of this foundation.  It is also long-wearing but best for touch ups since it doesn't have as much coverage as the liquid.  I love using it on the go and have it in my bag at all times. It comes with a strip of light pink highlighter, which seems unnecessary, but works as an eyeshadow in a pinch.   The compact is heavy with a huge mirror, a sponge applicator, and a generous square of foundation.  It is truly gorgeous and I loved holding it in my hand and applying foundation.  $66 is a lot to spend on foundation, but the heft and weight of this compact remind you of its luxury every time you pick it up.
The powder is super light and silky.  It's not at all caky, and that also means that it's not that easy to build coverage with this.  You can layer it on, but it pretty much stays a medium-light coverage foundation.  That also means that it looks very natural and is easy to wear.
Compact or Liquid?  I prefer the liquid for everyday because it works even if your skin is slightly dry.  The compact would be good for packing on vacation or in your gym bag, but if you do prefer a powder foundation, then the compact is probably the way to go.