If you're a gloss girl, you're in luck because there's a range of new glosses that push the limit on colour and finish.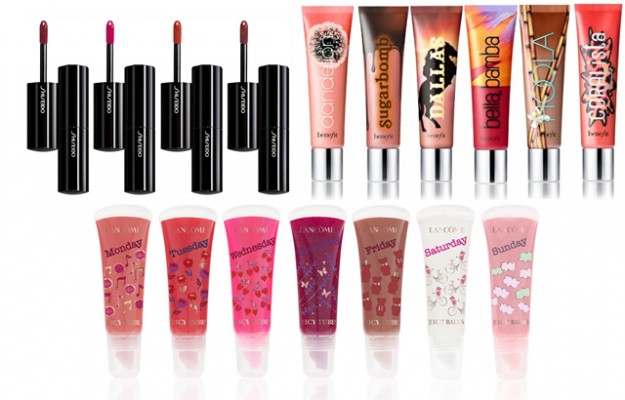 The first: Lancome's Once Upon a Week Juicy Tubes.  Ok, we're all familiar with the Juicy Tubes glosses, but the Once Upon a Week is a colour collection that's more pigmented and so just so much better than the original glossy but colourful Juicy Tubes.  The Once Upon a Week collection includes five classic Juicy Tubes, and two Juicy Tubes balms.  The balms are the "weekend" colours – more natural and muted than the "weekday" colours, and they're formulated so hydrate the lips for 8 hours.  Each gloss is in a portable size, and there's something for everyone in this lovely colourful collection.  Limited edition and $22 each at Lancome counters.
Next, head to the Benefit counter to try their Ultra Plush glosses.  The Ultra Plush line has been created to match their popular blushes – so now you can have the perfect shade of gloss to go with your blush.  Our favourite is Dallas: it's the bronzy pink you've been looking for and both gloss and blush are perfection. $18.
Finally, if you want something high impact and heavy on the colour, check out Shiseido's Lacquer Rouge.  This is a line of rich lip colours that wear more like a lipstick.  They have some shine, but they also offer opaque coverage that really sticks to the lips.  My favourite colour is Camel which is a nude beige that's unbelievably hard to find.  $30.