When I heard that Glossier was coming out with a glycolic acid toner, I was ready for it.  I mean, this is the one product that makes or breaks my skincare routine, it's glycolic acid.  It makes my skin so smooth and really gets rid of breakouts and scarring, which is basically what I need all the time.
So I splurged and bought this: it's $29 on the Glossier website, which is more than what Neostrata costs at the drugstore and kind of not as convenient because I don't need to wait until that comes to me.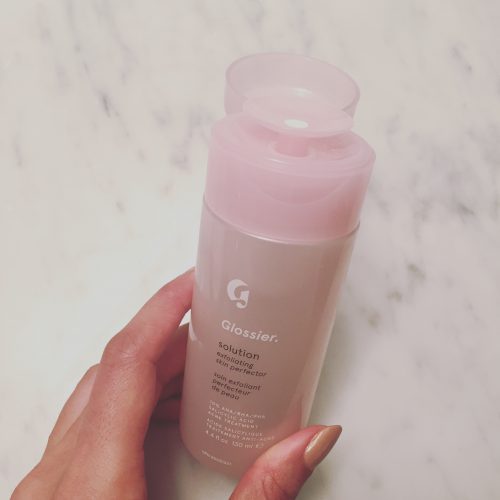 The packaging and look is amazing.  I love the pretty pink plastic bottle, and it's amazing that nobody has ever thought of putting toner in a nail remover bottle, because it prevents you from spilling the solution when you're trying to get it on your cotton pad.
The solution itself is 10% mixture of glycolic, lactic, and gluconolactone.  The blend means that it's not 10% glycolic acid only, and that there's actually less than 10% glycolic acid in here.  They also say that there's salicylic acid in there, but it's a tiny amount: just .5%.  That's not going to make a real difference on your skin, so the other acids are doing the work when it comes to exfoliation.
Honestly, this might work but I found it too sticky to keep using on a regular basis, and I haven't had that experience with any other glycolic acid toner.  The sticky feeling was annoying and the finish is kind of – well, glossy – so I didn't like using this in the morning. I might use it on and off at night time if I feel that my skin really needs some extra help, but right now I'm using my Universkin serums, so I'm sticking with those.
You can get Glossier products from their website.