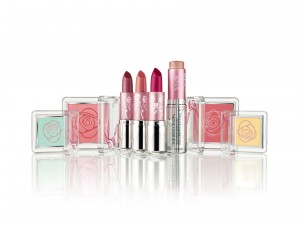 If pink isn't your favourite colour, you better start to make friends with it real fast, because that's what we're really seeing this spring!
Of course, there are different ways to play up the trend, and The Body Shop gives us one of those ways. It's with their Roseflower collection which does give us plenty of pretty pinks. They've got a great collection of liquid lipcolour that tastes yummy, and their lipsticks this seasons are uber-glossy and so comfortable to wear.
You could also check out the eye shadow that comes in sweet pale tones, and one of my favourite products was the Roseflower shimmer stick, which comes in a light shimmery pink and has a cooling effect when applied. It's great for placing on the browbones or on the very top of your cheeks to highlight.
Looking for a twist to spring makeup collections? Head to the Body Shop – the Roseflower collection is one of their best to date!