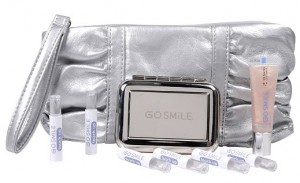 You need this kit for the summer.  Seriously, this is the cutest thing to come my way in a long time.  I'm talking about the Go Smile Go Glam kit.  It gives you 6 Go Smile ampules, lip shimmer, a mirror, and a glam silver wristlet.  The 6 ampules aren't much but if you use them daily, they're going to be enough to get your teeth at least 1 shade whiter.
I say that you need this for the summer because I feel like there are more pictures taken in the summer, what with people going on vacation and having more time to get together, and I know that (like me) you want your teeth to look nice and bright in those photos.
You can get this kit from TheShoppingChannel.com for $18.74.  Although the purse isn't pure leather, I still think that the price is worth more than what you get in this kit.