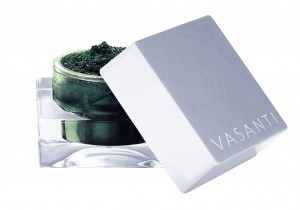 Vasanti's Holiday collection has made me go gaga.  It's got bright coloured pigments – and of course you wouldn't expect anything less from Vasanti – but what's especially fantastic is that they have a dark shimmering teal that is probably one of the prettiest smoky eye colours that I have ever come across.
The product is called Rainforest Shimmer Powder.  It definitely adds a modern punch of colour to your regular smoky eye, but it's still dark more than being overly bright.
There are many ways to use the powder too.  You can use it with your regular day eyeshadow.  Wet your brush and use the pigment as a liner or to add interest to the corner of the eye.  I did find that it was more difficult for me to use this in the crease, because some of the pigment would fall on to my neutral coloured eyeshadow.
You can obviously also create a beautiful smoky eye using this.  Just blend all over the eyelid, and use an even darker colour to contour your crease.  I used a matte black colour that I had.  Then line the top and bottom of your eyelids with your black liner, and top lashes with mascara.
If you don't like your smoky eye that dark, you can instead start by applying a base of dark gold shadow to your lid.  Then blend this colour on top of that.  You'll see that the colour is not quite as dark but still makes an impact and has a smoky effect.  Contour with a dark shade, and skip the liner if you're going for more daytime drama.
Vasanti's holiday collection is available wherever Vasanti products are sold.