Happy new year!  Again! As it's still January, I can't help but be reflective but also think about what this year is going to bring.  As much as New Year's Resolutions will be a thing of the past, I can't help but challenge myself to do better. I should go to sleep earlier, wake up earlier, not procrastinate.  Some things never change, I guess. But also want to think about 2018 and how it ended because it informs some of the trends (backlashes) that we're already seeing.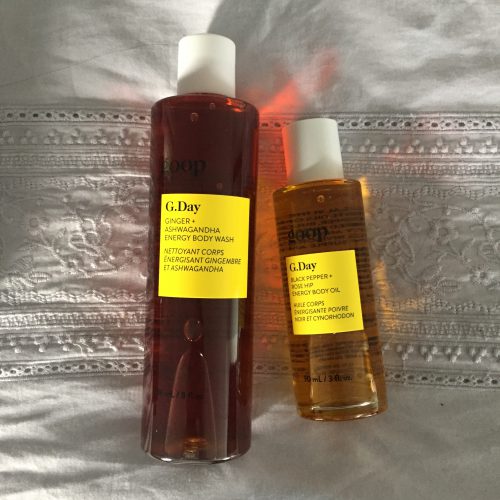 Is wellness the most over-used term of 2018?  What does it even mean? Does it imply that we were un-well before we focussed on wellness?  The beginning of 2019 has seen an assault on the term "clean" as in "clean-eating" which is a term I actually like. Clean-eating changed the way I thought about food years ago, and is the only "diet" plan that has made a positive difference in my health!  I try to have my kids eat as "clean" as possible, but also let them eat goldfish crackers and birthday cake. Clean meals are an important part of our lifestyle but kids will be kids and they will get their snacks. I get that "clean" implies that other foods are "dirty" but do we need to look into it so much?  Can't we accept that making food from scratch is just what "clean" means and that it's better for everyone?
Anyway, I'm off topic for a beauty blog, I know, but I just had to put that out there.  
It's also on my mind today because I want to share with you the magic of G. Day Morning Essentials.  G. Day is created by goop – a brand that fully supports the term "clean" and "clean eating" like I do.  Lately, I've been using G.Day Ginger + Ashwagandha Energy Body Wash ($45) and G.Day Black Pepper + Rose Hip Energy Body Oil ($84), and together they combine revitalizing aromatherapy with ingredients that take care of your skin.
As the names suggest, the Ginger + Ashwagandha Energy Body Wash and the Black Pepper + Rose Hip oil smells kind of spicy.  Not in a foodie spicy Indian food kind of way spicy, but they smell as if you're walking through a spice field. It's a refreshing scent that's different but in a good way.  Where most revitalizing products smell citrusy, these smell like they belong in a kitchen. The scents are meant to refresh your mind and they do. They're transporting in a way traditional body products might not be.
I love the Black Pepper + Rose Hip body oil – it is super moisturizing in a way that dry oils are not.  The oil actually has a base of Rose Hip Oil where traditional body oils would only use it in trace amounts.  It also has jojoba oil, sunflower seed oil, almond oil, and a host of extracts to help nourish the skin. The oil is emollient and seals in moisture.  I use it on my body right out of the shower, and let it absorb before I get dressed. The bottle I have has lasted me over a month, despite the fact that I use it daily and even let my kids rub it on themselves.  It's a smell that everyone enjoys using with ingredients that are good for everyone.
You can find G. Day online at goop.com.