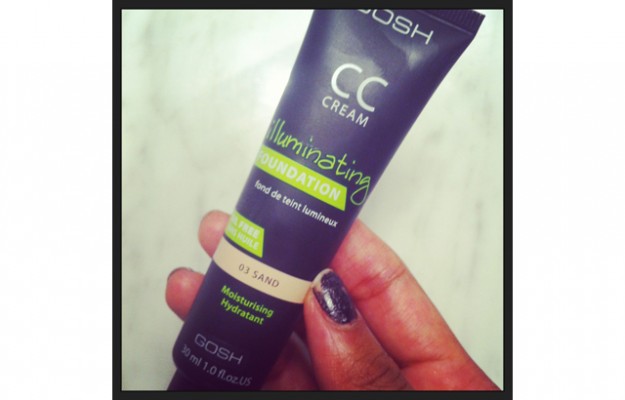 Check out my new favourite foundation-like product:
Gosh CC Cream.
I love it because the texture and finish is just like my favourite Benefit Oxygen-Wow Foundation .
It's a moisturizing, dewy finish which makes skin look really healthy.  Your natural skin shows through the product (CC creams are colour-correcting not covering), so it looks like your own skin but better…. much better.  When I use the Benefit foundation, people always comment that I have lovely skin… a glow, if you will.  The same thing happens when I wear the Gosh CC Cream.
The cream is labelled as "illuminating" but isn't shiny.  There's a slight shimmer in the finish, but it's so fine that it comes off looking rather natural and pretty.  Those with oily skin will do well to use a primer and a powder with this CC cream, and that really will make it last a lot longer.  If you have dry skin, you will find this to be a nice dose of hydration.  It's perfect for everyday wear.
Unlike the Benefit foundation, this cream does not have SPF in it… I'm actually okay with that because that means that it will photograph quite nicely.  It also comes in a limited amount of colours: 6 shades and all of them wear slightly light, so be aware of that as you pick one that suits you.
Pick it up at Shoppers Drug Mart locations.  $24. (The Benefit foundation is $42.)