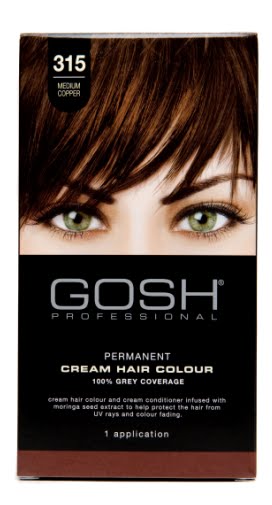 First they started with their makeup, and now you can buy their hair products too.  When I was last in the drugstore, I was in the mood for something new and so I picked up GOSH Professional Permanent Cream Hair Colour.
They claim that this covers 100% of grey in 30 minutes and contains moringa seed extract that can condition hair and give it shine.
I got the product in Darkest Brown and it did indeed cover the bits of grey that I had, which I was pleased with.  I also liked that it was a nice thick cream so it was super easy to apply and I didn't have any drips after it was in my hair.
The one thing I didn't like about this is that it gives quite a flat matte colour to your hair.  There are no tones or translucent aspects to the hair colour, and if I wasn't just touching up my roots, I would be very wary of using this all over my hair.  It would just make it way too dark.
I also had a hard time really getting that clean feeling in my hair after using this.  After rinsing the first time, my hair felt almost stiff and sticky and didn't dry the way that I would like it to.  It took a couple of shampoos 24 hours later to really get my hair back to the way that I like it.
At $9.99 from Shoppers Drug Mart, I definitely didn't break the bank on this hair colour, but I don't think that I'll be buying it again.