I know I have so many sunscreen reviews on here, but um, guess what?  I still got a sunburn this summer, and it was not pretty!  The worst part of the sunburn is the flaking itching skin that I just can't seem to keep my hands off.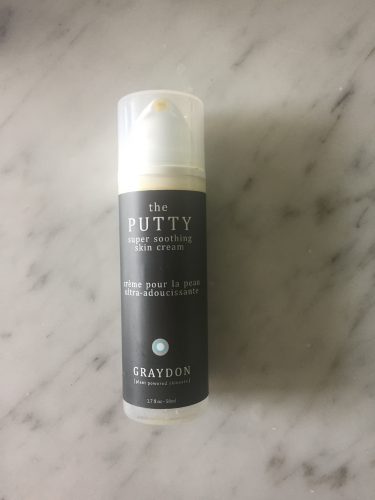 Thankfully, a friend gave me The Putty by Graydon.  The Putty is a skin-saver for dry irritated skins.  That typically isn't me, but the sunburn had me reaching for this rich moisturizer, and it stopped the burning and itching on contact, allowing my skin to really heal!  This cream is the best.  I even put it on itchy spots of eczema and felt instantly relieved.
The Putty is a blend including Cocoa Seed Butter, Jojoba Oil, Shea Butter, and Aloe Water that all bring their healing properties to the blend.  In fact, there's over 15 different different oils and moisturizers in this beautiful cream, so you're getting a bit of everything. The best part is that it absorbs into your skin quickly (especially if it's dry) and sets to a powdery non-greasy finish, so you can go about your day and forget about your irritated skin.
Graydon is a natural brand out of Ontario, Canada and each and every product is created by the founder Graydon Moffat and her team.  I'm also a huge fan of Graydon's Matcha Mint Shampoo – you can read about that here.
You can find Graydon products at natural beauty stores and online. $38.