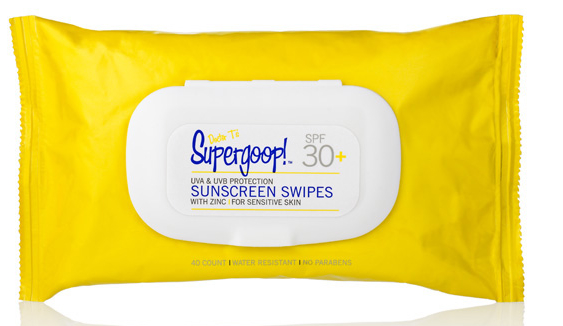 I admit, that even though I'm usually a sunblock fanatic, occasionally, I feel lazy and don't want to put sunblock on and wait for it to absorb into my skin.  I'm not the only one though, and I frequently have a tough time getting anyone else to wear sunblock!
Well all that has changed since I got Supergoop! Sunscreen Swipes!  They are SPF 30 and absolutely amazing.  They're kind of like the makeup remover wipes but this time they're moistened with sunblock instead of makeup remover.  You just take them and wipe them on your skin and you've got sunblock on.  The best part is that they don't even smell like sunblock!
I have put these in a very visible and accessible part of the house so that everyone can get to them, and guess what?  Even I can quickly reapply without having to smear on more sunblock.
Get these from Supergoop's website.