So the new thing in beauty is coming out with products that have a spin to them. You know that the trend has caught on hard, when it's not enough that a celebrity is releasing a new perfume – she's releasing 5!
The celebrity in question here is Gwen Stefani and her collection of Harajuku Girls Perfumes. There are 5 incarnations and each smells different from the other. Besides that, each bottle looks like a Harajuku Girl (although if you follow Gwen Stefani's performances, you'll know that there were only 4 to begin with) and the bottles look like ultra-cute dolls.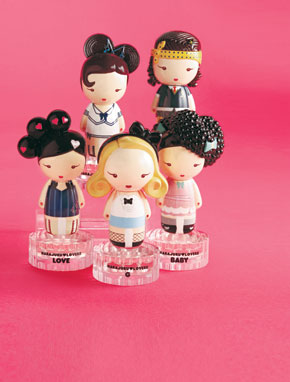 I've now worn each of the 5 perfumes and though I have my favourites, the thing is that despite the cute appearances, these are all really good perfumes. They have great lasting power and the line itself has a range. There's a gourmand coconut and vanilla-based scent, "G", and a crowd-pleaser, Love, which is more of a floral-vanilla. There's also something fresh, Lil Angel, and my favourite, Baby.
Of course, the packaging makes me think that the perfumes are being marketed to the younger crowd or to those women who like all things cute, and the fact of the matter is that it's precisely those women who will pick up the perfumes to even smell them.
But I'm curious to know what you think: these perfumes have been in stores for a little while now and I'm wondering what you think of the Harajuku Lovers perfume packaging. Leave me a comment!