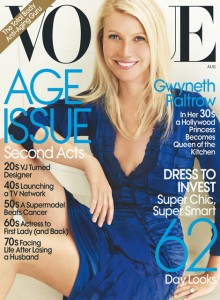 Today in her newsletter, Goop, Gwyneth Paltrow answered readers' questions.  One of those was about her skincare routine and makeup habits.  The answer is comprehensive and well-written.  If you don't subscribe to her newsletter, you really must – it is fantastic because it has a nice guide to cooking, health, fitness, and travel.  It is what inspired the Vogue cover for August, and it's clear that Gwyneth is the ultra-mom of our generation.  She works, but balances being in the kitchen and taking care of herself.  Sure, it helps to have money that can afford help, but the message is down to earth, and that is that you can do things yourself.  She can help and that's why she even wrote a cook book that comes out next year, called "My Father's Daughter".  I can't wait to get my hands on it.
Anyway – on to the things you're excited about: her makeup.
Q:"What products have the best reputation for the various skin types (cleansers, exfoliators, moisturizers, etc.)? What REALLY works? What is GP's regime?  The same questions go for makeup as well. What is the best of the best?"
A:When it comes to my skin-care regime, I use a grab-bag of makeup, creams, and oils that I like to mix and match on a daily basis. Here are a few of the products that I love and that really stand out:
| | | |
| --- | --- | --- |
| Rodin's Olio Lusso ($140): This all-natural moisturizing oil leaves skin looking radiant. It has a subtle lovely fresh scent, too. | | |
| | | |
| --- | --- | --- |
| | | I love Intelligent Nutrients products which are all organic. The Anti-Aging Serum ($60.00) and the Anti-Aging Mist ($35.00) work in conjunction to eliminate signs of aging and make skin look luminous. |
| | | |
| --- | --- | --- |
| In the winter, when my skin gets especially dry, I use a combination of products from Skinceuticals. A few drops of Hydrating B5 Gel ($67) goes a long way in helping to keep my skin fully moisturized. I use this along with their A.G.E Interrupter ($150) which fights wrickles and C E Ferulic ($142), their anti-oxidant, after washing my face, neck and chest. | | |
My LA facialist, Sonya Dakar, has an eco-friendly group of anti-aging products called Neutrasphere that I find really works.
| | | |
| --- | --- | --- |
| I like to use bright lipstick when all the rest of my makeup is minimal. A few months ago, I found the most gorgeous and sleek box set of Tom Ford lipstick. From his line of makeup, these lipsticks come in 12 essential colors. The set can be purchased in Neiman Marcus and Saks in the US and at Selfridges in the UK (after August 1st). | | |
| | | |
| --- | --- | --- |
| Laura Mercier's Undercover Pot ($34), I find, is the ultimate blemish and under-eye circle cover-up. It comes in a pot with a 3 product combo that you can mix up to hide blemishes. | | |