…thanks to Kevin.Murphy.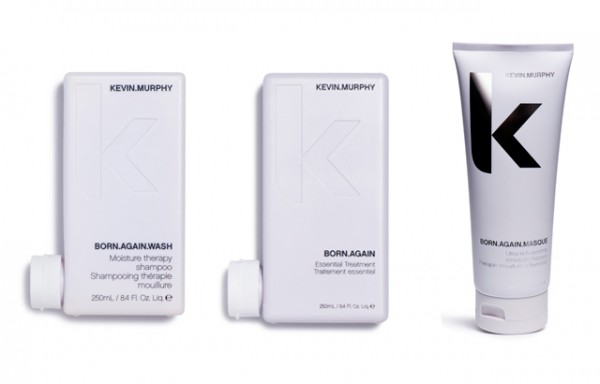 The cold season isn't just a time for us to change our skin care, it's also a time to give some TLC to our hair. Because the possibly humidity outdoors and the definite dryness indoors, hair can be dryer and more finicky in the winter time. For me, it's also damaged from the summer of attending weddings and events where I want my hair to look perfect. I love to blow-dry and straight iron all year around, and unfortunately, that has always been apparent in my hair.
In the past, I've always thought that the only way to rehabilitate my hair was to swear off the hot styling tools for a season, but after speaking to Tim McLean, Kevin.Murphy's Style.Master, I needed to try the Born.Again line of products and see if they could help my hair.
The Born.Again line is specially made for dry coloured hair, and is ultra rich and moisturizing but still light-weight enough to make your hair look good. It has soy protein to help build up hair, and wheat proteins that act as conditioners. It also contains vitamin B5 to enhance the silkiness of the hair, and essential oils that can penetrate the hair and help repair it from the inside out. The line contains a shampoo, a treatment (that's meant to be used as a conditioner), and a masque (to be used sparingly and only once in a while). Each product in the line can really repair hair from the inside, and this is so much more than just a cuticle-smoothing line of products.
So upon Tim's recommendation I used the three Born.Again products for my dry damaged colour-treated hair. I've been using them for about a month now, and I have to say that I can actually see the difference in my hair. Where my curls were falling flat before because the ends were so damaged, the natural curl holds all the way throughout the hair. When I blow-dry or straighten it, there are no raggedy ends, and I can get everything to look nice and smooth without much work.
Although I love the masque because it's nice and thick, the shampoo and conditioner are actually my favourite products. They are seriously moisturizing but very light-weight. The shampoo especially feels light as air without being stripping or drying, and I could even use it on its own without the treatment and still feel that my hair was getting some moisture added to it. It also helps that the shampoo is sulfate-free (but has a nice thick lather) and all the products are paraben free. Meanwhile, the Essential Treatment is hydrating and detangling, and the masque is ultra-rich and thick and contains an even higher amount of amino acids and hydrators, including Shea butter, Mango butter, Jojoba, and oils to help lock moisture into the hair. It's the perfect product to use mid-month to really help hair look and feel its best.
Pick up the Born Again line at salons. The Born.Again shampoo retails for $27.50, the Essential Treatment is $35, and the Masque $39.