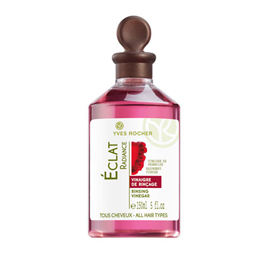 Most of the hair products that I review on here are good, but they're not always must haves. For example, a new hair straightener that plays music: pretty rad, but certainly a product you can live without especially if it doesn't take you long to straighten your hair.
But Yves Rocher Rinsing Vinegar? Definitely totally a must have. Your hair will be so soft and shiny after using this that you'll wonder what you ever did without it.
Now, we've all heard that it's a good idea to rinse your hair with vinegar every once in a while because it'll help rid it of residue. Plus, vinegar is cheap and everyone has some in their cupboard. But vinegar also smells bad, and isn't necessarily pleasant to use.
But now there's Yves Rocher rinsing vinegar which smells like Swedish Berries, comes in a convenient easy to hold bottle that's easy to squirt all over your hair. The directions say to use on your last rinse, but I find that it's better to use it after you rinse out your shampoo and before putting on conditioner.  Your hair will be super soft, and clean but moisturized from your conditioner.
At $8.95 a bottle is worth it because it'll last at least 5 washes, and you only need to use it once every week or so.