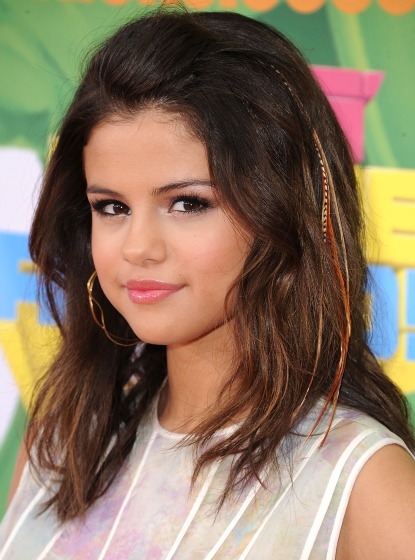 Yes,  you read right.  The latest hair trend is hair extensions that look like feathers.  These can either be real feathers (from roosters) or they can be feather look-alikes.  Since the trend has come about, the rooster kind are expensive since only so many can be supplied, so it might be a good idea to go for the fake kind if the option is there.
The hair extensions come in different colours (brown, blue, green, red, etc.) and you can put in as many or as few as you want.  You can treat them like normal hair: curl them, straighten them, do what you want.
The one downside is that usually they're quite short and if you have longer hair, you'll need to put them at the front so that they look like short bangs.  If the extensions are longer, they're probably fake so be aware of that!
The extensions can be clip on, or attached to your hair like regular semi-permanent extensions, and if they're the latter kind expect them to last in your hair from 3-4 months, just like regular extensions.  Maintenance is mandatory since your hair grows out, and you have to go back to the salon to push them up to your roots.  Of course, you can have them taken out whenever you like, if you get tired of them.
After seeing them in person I have to say that honestly, they look cool but I was also slightly grossed out.  It's not something I want in my hair even though they do look fun.
You can get them put in at DK.Envy salon in Calgary, where they cost $50 for a pack of 5, and $10 to apply.
If  you haven't been to DK.Envy, be sure to check them out.  They are my fav Calgary salon, and carry L'Oreal Professional as well as other salon only brands.
dk envy Salon & Spa
#12 Midlake Blvd, SE
Calgary, AB, T2X 2X7
Tel: 403.532.0078