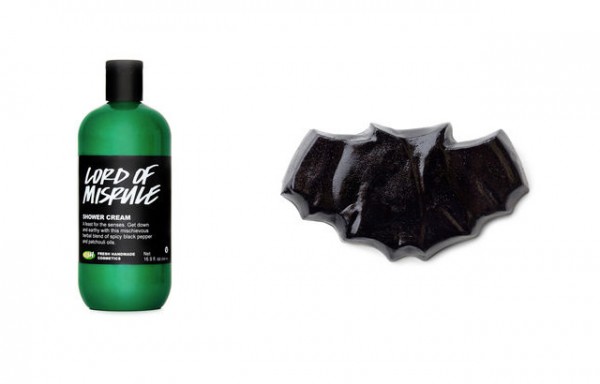 Happy Halloween Eve, everyone, and I have to say that this holiday has taken on a whole new meaning for me since I've had kids.  I actually care more about it than I ever have before!
Great finds this year come thanks to Lush.  Seriously, who knew that bath products could be so fun and smell so good?
I'm loving the Lord of Misrule shower gel, and even if you're not into Halloween, you should pick up a bottle of this because it smells so good.  Patchouli, pepper, and vanilla are in the scent and make my whole bathroom smell absolutely amazing.  It's got lots of colour in it – intense green, which makes it easy to inspire my little one jump into the shower, but if you colour your hair, I've found that it doubles as a great shampoo because the green dye cuts down on brassiness in our hair!  Yes!  No more orange hair and it will smell amazing.
Also, Nightwing Shower Jelly, which is referred to in my house as the black soap.  It smells like lemon candy, so there's that, but it also makes lots of lovely bubbles and the jelly texture is fun (albeit a bit slippery) in the shower.
Pick both of them up at Lush stores or online.