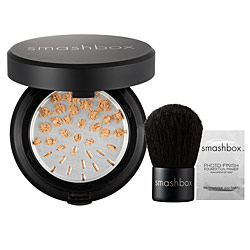 Smashbox's Halo Perfecting Powder is said to perfect your perfection and does so with the addition of gold and antioxidants in its formula.
It wasn't overly sparkly or glittery on my skin, and I didn't notice any gold shimmer, but what I did think was that it's a great powder for those days that you don't feel like wearing a lot of makeup. It does perfect your skin, and the results last for most of the day, with the powder absorbing any excess oil and impurities that the skin might produce.
A word to the wise: don't use the scratchy kabuki brush that comes with it for free – instead get your own powder brush and fluff it on, or for more coverage, use a foundation brush.
All in all, probably one of the best powder/foundation that I've ever used and it's a hard one to beat.