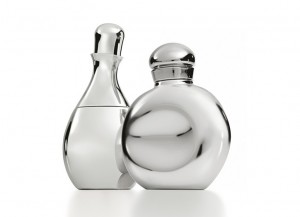 Giving the gift of scent is difficult to do seeing that likes and dislikes are so distinct, but sometimes a nice juice combined with a really lux bottle does the trick.
Such is the case with Halson Man and Woman.
Both scents are made by Elizabeth Arden and have been updated by the company.
Halston Woman is "a floriental woody, has top notes of Sicilian bergamot, marigold and black currant; a heart of precious roses, orris, jasmine petals, rose absolute and rose essence, and a drydown of patchouli, sandalwood and deep amber."
I found the scent to be warm and quite round and full throated. I really enjoyed wearing it because it wasn't overwhelmingly anything and I find it to be really nice for a cold day. I could hardly smell any fresh top notes or florals in this scent and to me it seemed as if there were no real top or middle notes, just a nice patchouli amber woodsy blend from beginning to end.
Halson Man has notes of "citrus, artemisia and juicy passion fruit; a heart of lavender, pennyroyal mint and cardamom, and a drydown of patchouli, labdanum and musk."
This winter you can get them in special holiday packaging.
There's a Halston Woman set that includes a 100ml Eau de Parfum Spray and a 100ml Body Cream for $150, and a Halston Man gift set which includes a 125ml Eau de Toilette Spray and a 125ml After Shave Spray for $110. Both sets as well as individual fragrances are available at The Bay.