First of all, to be honest, I don't mind a greasy hand cream.  If I'm on the computer anyway, a greasy cream isn't going to get in the way of what I'm doing.  If I'm watching TV or a movie, then I don't mind a bit of grease on my hands, but for those of you who aren't in that boat, who like to use your hands more than I do, then this is the hand cream for you.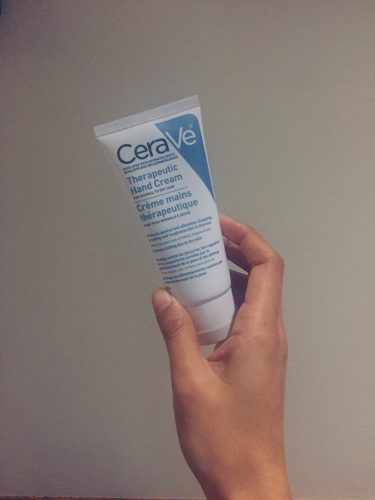 Cerave – a brand that has quickly become one of my favourites – has based their skincare products with including ceramides in them.   Every productincludes Ceramide 3, 6, and 1, to help replace lipids lost due to weather or washing. Basically, these are oils that are lost in day-to-day activities and need to be replaced.  The products also include Niacinamide which addresses skin concerns such as fine lines, dullness, and weakened skin. Finally, there's hyaluronic acid, which is great for boosting skin's water content.
Cerave's Therapeutic Hand Cream has all these ingredients in a formula that also has silicone in it for dry slip.  The silicone seals in the hyaluronic acid, the ceramides and the niacinamide, but it also "absorbs" so that your skin isn't greasy after you use this hand cream.
Pick it up at the drugstore. $13.99.