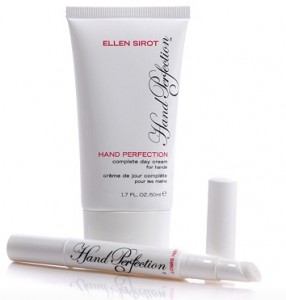 If you've seen my pictures of nail polish colours, you know that I have very dry cuticle, and on the whole I have extremely dry hands!  The city I live in naturally has a dry climate, and so I'm never without hand cream in my bag or on my desk, and make it a point to rub it on a few times a day.  Finding the right hand cream can be difficult, and my little annoyances about different creams always make it on to Twitter.  One big pet peeve is when they smell really strong and not in a good way (Palmer's Cocoa Butter has that problem).
But now, I've found a hand cream that is absolutely amazing and perfect to the letter.
It's from a line of products called Hand Perfection and the line is created by hand model Ellen Sirot.
The line includes a creamy non-drying cleanser, cuticle treatment, and hand creams.  I find that the day cream and the night cream are absolutely indispensable to me (I can't fall asleep without first putting hand cream on).  I have them on hand all the time, and I love that they're not greasy at all so that I can touch my keyboard or pick up a pen without thinking twice.
The entire line can be found at TheShoppingChannel.com.