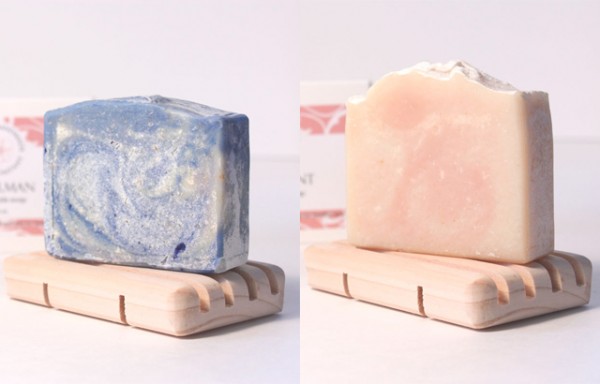 Making soaps and cosmetics at home isn't for me, but the chance to buy handmade soap that someone else has made?  Yes, I can do that.
And so I'd like to introduce you to a soap company that I've come to love – Alberta Handmade Soap Company.  All their soaps are made in small batches and by hand.  The ingredients are pure, natural, and contain no petroleum, no phthalates, no detergents, and no formaldehyde.  
I tried the Riverman ($5.99) and Fresh Mint ($6.99) and I have really loved them.  They are gentle, they smell good and fresh, and I like that they're not necessarily typically scented – Riverman is a blend of lavender, jasmine, oakmoss, musk and sandalwood, and Fresh Mint is a blend of essential oils that include spearmint and fresh mint.  Both soaps are also slightly scrubby thanks to the inclusion of oatmeal (see what I mean about there being natural ingredients).
You can find Alberta Handmade soaps online.