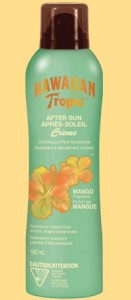 Hawaiian Tropic has been selling after sun lotions for a while, and I've always avoided them because for the most part, I find after sun lotions to be a watery alcohol filled mess that does nothing more than evaporate on your skin and leave it drier than before.
This, however, is an actual cream that contains glycerine, shea butter, and smells amazingly yummy.  The mango scent is tangy and fresh, and lasts on your skin for a while before disappearing quickly.
I love that this bottle is "continuous flow".  It just means that I can hold the nozzle down and get as much moisturizer that I need.  I've noticed that I can't get a small amount – there is a minimum that needs to come out, but for the most part, I like that I can just hold the the pump and get a whole bunch of moisturizer.
Because of the water in this product, it does cool the skin which is really nice after a particulary warm day in the sun.  The water evaporates and leave your skin covered in moisturizer, which absorbs in amazingly quickly and just leaves your skin super smooth and soft.  I like this so much that I'm using it even on the days that I'm not going into the sun and I love using it before going to bed because I don't need to wait a long while before it evaporates.
Pick this up at your local drugstore in the sun care aisle.