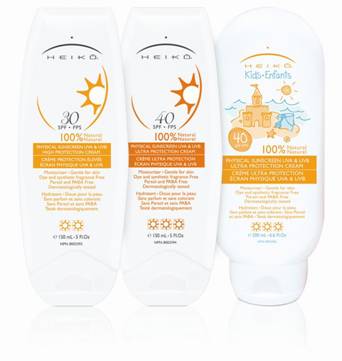 Heiko SPF 40 is a physical blocking sunscreen, which means it contains 18 percent zinc oxide as the sun block, and leaves that gross, white chalky reside on your skin that everyone hates.
That said, MANY derms recommend that you use this sort of gross, chalky white sunscreen that contains the physical blockers. Simply put, it is speculated that chemical blockers such as mexoryl, PABA, Parsol 1789, and avobenzone may generate free radicals inside your body. It makes sense, because chemical sunblocks absorb light, physical blockers reflect light. (There's actually a whole host of horrible side effects that may or may not be associated with chemical sunscreen use if you care to google it.)
Also, physical blockers are recommended for people who have sensitive skin, because they are generally less irritating to the skin.
Now that that's said, Heiko has this nice cinnamon smell and doesn't contain any dyes or synthetic fragrances. I liked that it felt cool and non-sticky when it was dry, but my favourite thing about the sunscreen was the peace of mind that I wasn't generating more cancer-causing free radicals by using the sunscreen.
This is available at your local drug and food stores, and a 150 mL bottle retails for $30.