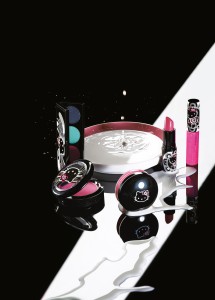 Kyle Gordon
Continuing her reign as an international pop culture phenomenon this fashion icon for over 34 years can now add MAC to her resume. You guessed it. Hello Kitty is coming to MAC with three makeup collections that draw inspiration from the fantastic world of this adorable feline.
Hello Kitty Mild: For the sweet and innocent gal
Hello Kitty Wild: For the lady who's always out on the prowl
Hello Kitty Kouture: For the bling of all bling (this collection is bedazzled with Swarovski crystals).
These feisty new collections will surely put a smile on your face. And for those slightly obsessed fans out there, I know you'll go wild for the limited-edition accessories, including the brush collection, makeup bag, beaded bracelet and purse mirror. They're too cute for words.