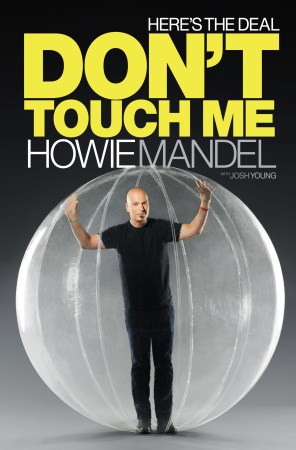 Howie Mandel's biography, Here's The Deal: Don't Touch Me, is probably the best biography I've ever read. Instead of a celebrity saying that he had problems and he made it big despite of them, Howie Mandel's message is more that yes, he had problems, yes he got famous, but his problems still exist and are never going to go away. This is a refreshing biography by a hugely successful star who hasn't seemed to change despite his success.
Throughout the biography, Mandel comes across as a fairly balanced and down to Earth person who hasn't ever forgotten his Torontonian roots.  He details his struggle with OCD, a disorder that nobody really seemed to understand in the '70's when Mandel was growing up.  Thus, Mandel always felt like a crazy person and kind of meandered through life before hitting it big by chance as a comic.
He performed at Yuk Yuk's on open mic night as a lark, and got such a great response that he was invited back.  The rest, as they say, is history.
If you thought that Mandel was MIA before appearing on Deal Or No Deal, you were right.  Mandel was offered the opportunity to host at the last minute (probably because the host the show was offered to backed out) and he accepted it thinking that it wasn't going to big at all.  He had no faith in the show or his own faded career and signed on figuring that he had nothing to lose.
And look at him now.