Majorly pigmented lip stains are a must-have this season.  They are long-lasting so they're a must for those holiday parties, and they pack a such a punch that using a lipgloss instead is pretty much unthinkable.  We're never without one, so we thought we'd compare two that are easy to find.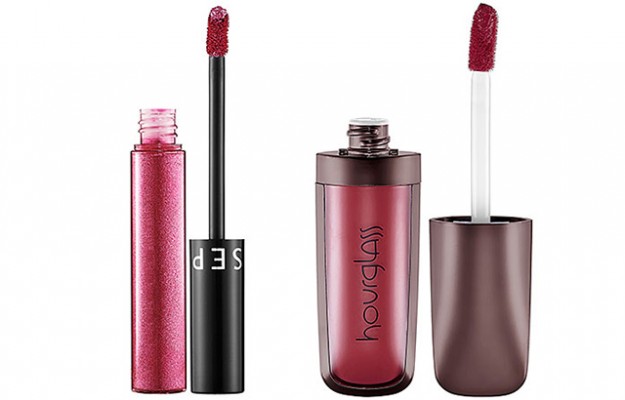 One the one side, there's Sephora's Cream Lip Stain.  We picked colour #10, a shimmering burgundy.  At $14 it's less than half the price of its competitor: Hourglass Opaque Rouge Liquid Lipstick which is $33.  Colour to get: Empress which is a matte burgundy.
The Sephora version is pigmented, but you do need a couple of strokes to get truly opaque colour.  Perhaps its the shimmer in the finish, but to us, this didn't look as flawless as we would like a lip stain to be.  Actually, this does work very well as a true stain because you can dab it on and because it's not very dry, you can then rub it into your lips just to stain them.  It's an easy way to wear a dark colour, but perhaps not the best way to wear a dark lip this season.
The colour is smooth and not tacky, and the stain doesn't have a dry finish so it's easy to on the lips, especially in cold weather.
Hourglass's version really is a liquid lipstick.  It is super pigmented and although it dries quickly, there's enough time for you to work with it and really apply it perfectly on the lips.  Unlike Sephora's version which feels slightly glossy even when set, the Hourglass version sets completely dry and feels like nothing on your lips.  One swipe on the top and bottom lips was enough to coat them entirely, and we didn't have to dip back into the tube.
Of the two, the Hourglass version is definitely longer-wearing.  It didn't completely last through a meal and coffee, but there was enough pigmented left over that we didn't feel the need to reapply.  The Sephora version, on the other hand, took a major beating and there wasn't much left after the appetizer course was finish.
We also like that all of the Hourglass colours don't have shimmer in them which makes for a really nice clean lip that's much more on trend.  The shimmer in the Sephora version makes the final finish a little cheap looking.
So the winner, in the end, is Hourglass.  The price is more than double, but the long wear and the pigmentation makes their Liquid Lipstick a truly quality product.  If you see a colour you love and would wear all the time, we think that it's totally worth the investment.
Pick both up at Sephora.